CONTACT MISTRESS DOMINIQUE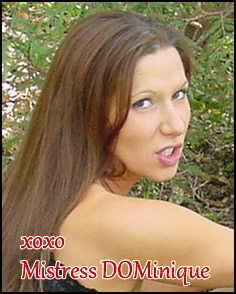 Want to contact Mistress DOMinique? You may use my online contact form to submit FemDom comments or questions. I welcome your messages and will reply as time permits, and as appropriate. I cannot personally respond to all sub inquiries but I will do my best if you provide appropriate information. I do not respond to one-liner messages or simple hello.
Contact Instruction for submissives
You must format my name in the following manner: Mistress DOMinique
Your name must be formatted using lowercase letters. Ex: steve
You have much to learn. This is a lifestyle — not a game. Fortunately for you, I am a strict but kind Mistress. I am told that although I am stern and demanding, my kindness shown to submissives is applied in exciting proportions. Messages from subs are always welcome but you are expected to maintain utmost respect at all times. See my bio for more information about me.
Are you ready for the FemDom lifestyle and want to meet a local Dominatrix? Browse the profiles of dominant women along with other submissives. View photos and bios online to find local kinky new friends. FemDom and BDSM is a tight-knit community. Your discretion is required at all times. Once you meet someone of interest, send a polite private message along with some info about yourself. This is an active community so you are sure to meet plenty of local area fetish community friends.